7 Drinks We Dare You To Try This Weekend
Cement Mixer
1 part Bailey's Irish Cream, 1 part lime juice
Instructions for this shot (yes, instructions) is to swish them both around in your mouth so you can enjoy the curdles as they go down.
Three Wise Men
Equal parts of Jim Beam, Jack Daniels and Johnnie Walker
This one will lead to calling you bartender Papi all night. We can confirm this.
The Four Horsemen
Equal parts Jim Beam, Jack Daniels, Johnnie Walker and Jose Cuervo
And this one will probably have you calling every Papi!
Prairie Fire
1 part tequila, splash of Tabasco sauce
Well, if tequila didn't scorch your throat before, this will surely do it!
Four Loko
Available at all liquor stores.
When this fizzy cocktail first came out everyone was sure there was some sniffle snacks (see: cocaine) in it due to the heightened alertness, increased energy and slight psychoactive properties.  Ever since, the creators have removed an ingredient known as wormwood, which is the psychoactive ingredient in absinthe.
Tapeworm Shot
1 part whiskey or vodka or tequila, splash of Tabasco, dollop of mayo
This one not only looks unappetizing, but that splash of Tabasco will definitely be the cherry on top!
Alligator Sperm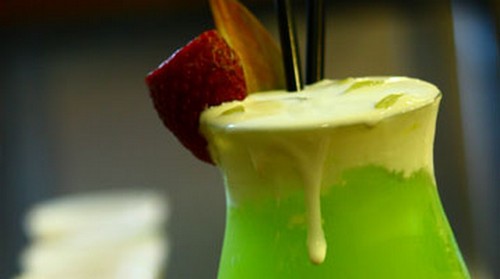 1 part melon liqueur, 1 part pineapple juice, 1 tsp cream
If the name doesn't turn you off, the curdling that happens as you drink it will definitely induce projectile vomiting.